Be Rewarded for Your Custom
At Cahoots, we believe in rewarding our loyal customers for their continued support. We do this through several complimentary initiatives. Why not take advantage of all of them . . .
VIP Club – earn VIP points and redeem for discounts
Occasional offers to our valued customers (via our newsletter – sign up now)
---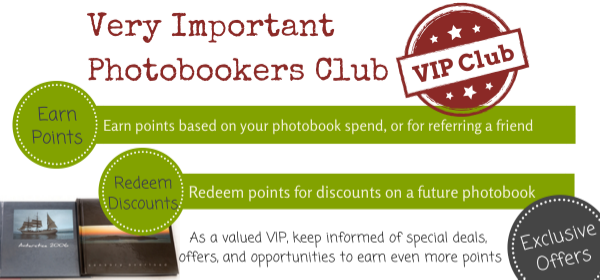 Cahoots V.I.P. (Very Important Photobookers) Club
What it offers: A discount of up to 50% on the cost of a future Cahoots photobook (if redeemed within 18 months).
How does it operate?: Members earn points based on their photobook spend that can accumulate and be subsequently redeemed for up to half the the cost of a future photobook. Additional opportunities for earning points will include social media interactions, and client referral.
How do I join?: You'll automatically accumulate points if you register/sign in as a customer when ordering a Cahoots book. Conversely, you will not be able to earn points if you choose to complete your order as a guest.
See our Loyalty section on our F.A.Q. page for further information.